We are pleased to welcome Norfolk Island Airlines to AeroCRS family.  Norfolk Island Airlines is locally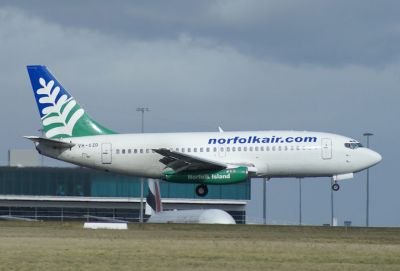 owned and based, with many years of airline and travel experience to Norfolk Island. Norfolk Island is situated in the Pacific Ocean approximately 1, 600km north-east of Sydney. Norfolk Island Airlines teamed up with industry partner Nauru Airlines in order to provide with aircraft operations and crew.
In February 2017 Norfolk Island Airlines received approval from the International Air Services Commission to operate International flights between Norfolk Island and New Zealand. Services will commence on 17 June 2017 from Norfolk Island to Brisbane and from Norfolk Island to Auckland using Boeing 737-300.
Mr Gregg Prechelt, Director of Norfolk Island Airlines said "Norfolk Island Airlines has selected AeroCRS as its technology partner for the airlines CRS and IBE systems. The implementation of these systems is now complete and the airline has opened its online booking engine (IBE) to customers, wholesalers and travel agents to book travel to and from Norfolk Island."
Mr Meir Hadassi Turner, Founder & CEO of AeroCRS said: "AeroCRS is extremely pleased to have been selected by Norfolk Island Airlines. We made a very fast implementation according to Mr Prechelt's request and now they are live and started to sell tickets. Norfolk Island Airlines is very focus in their mission to serve the island and we are sure they will do a great job! "
AeroCRS provides an online reservation and operation system for small-medium size airlines, offering reservation system (B2B and B2C), CRM, Inventory management, DCS, Full ecommerce website with CMS, BI dashboard & reporting center, Analytic tools, open API, connectivity with distribution channels, marketing services and more.
For more information about Norfolk Island Airlines, please visit www.norfolkislandairlines.com.au
Contact:
Ram Beery, Sales Manager
114 Begin St. Tel Aviv, Israel
+972(3)7219664 ext. 806