AeroCRS is glad to announce about Jetways Airlines' complete implementation of its reservation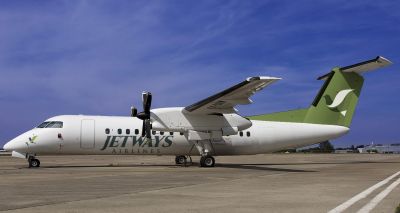 system.
Jetways Airlines Limited is a Kenyan registered airline company based at Wilson Airport, Nairobi. Jetways is fully licensed to operate scheduled, non-scheduled and adhoc air charter services in Kenya and the greater East and Central African region
The company has a total fleet size of four aircrafts comprising of one Fokker 100, three Fokker 50s and one Dash-8-200s, with plans to increase the fleet size in the near future. The airline will serve several destination in Kenya for start like Nairobi Wilson, Mombasa, Wajir, Lamu and Ukunda, before it will expand their network with more domestic and regional destinations.
Ms. Caroline Kiptoo, Sales and Marketing Manager in Jetways Airlines said: "AeroCRS team implemented and trained my team in a very short time. The system keeps really good up to date records and tracks every change in detail that is affected, this makes reference and follow up with agents or clients easy as pie. The best part of the system for me, is that it integrates reservations and accounting thereby invoicing, billing and reconciliation is what makes it one of the best airline technology systems today."
Mr. Meir Hadassi, AeroCRS CEO said: "AeroCRS is pleased to add Jetways Airlines as our 9th customer from Kenya, we are very happy to see that the aviation industry in Kenya trust and rely on AeroCRS system. Im sure that Jetways Airlines will greatly contribute to Kenya's aviation market and we will do everything to assist them."
AeroCRS provides an online reservation and operation system for small-medium size airlines, offering reservation system (B2B and B2C), CRM, Inventory management, DCS, Full ecommerce website with CMS, BI dashboard & reporting center, Analytic tools, open API, connectivity with distribution channels, digital marketing services and more.
For more information about Jetways Airlines, please visit www.jetwaysairlines.com
Contact:
Ram Beery, Sales Manager
114 Begin St. Tel Aviv, Israel
+972(3)7219664 ext. 806
ram@aerocrs.com