AeroCRS is pleased to welcome FlyViking AS as one of its new airline customers. FlyViking AS, a new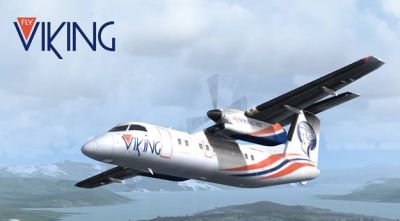 startup airline from Norway, started domestic flights operations on regular basis at March 27th to several destinations in north Norway such as Hammerfest, Bodø, Svolvaer and more, in a later stage will have also flights to northwest Russia using a fleet of several DHC-8 aircraft's.
The Tromsø-based company FlyViking AS was established in 2015 with the aim of competing with traditional airliner Widerøe on the Norwegian network of airports with short runways. The company is founded by Ola O.K. Giæver, former co-owner of Widerøe.
Mr Svein A Eriksen, Chief Commercial Officer of the airline said: "FlyViking AS is an airline doing short haul flight in regional Norway. In fall 2016 we choosed AeroCRS as our booking solution and opened our net based reservations in February 2017. AeroCRS is very competitive when it comes to fast implementation, ease startup, and expense level- both initial and running fees. We initially wanted some adjustments in solution and has been working close with AeroCRS on that part. Their positive attitude to implement changes at a low cost, is important to us. We really look forward working with AeroCRS in the future."
Mr Meir Hadassi Turner, Founder & CEO of AeroCRS said: "AeroCRS is honored to have been selected by FlyViking as its reservation system. The new approach of FlyViking and their future plans are very exciting and we will help them to achieve their goals and to dominate the Norwegian market"
AeroCRS provides an online reservation and operation system for small-medium size airlines, offering reservation system (B2B and B2C), CRM, Inventory management, DCS, Full ecommerce website with CMS, BI dashboard & reporting center, open API, connectivity with distribution channels and more.
For more information about Fly Viking, please visit www.flyviking.no
Contact:
Ram Beery, Sales Manager
114 Begin St. Tel Aviv, Israel
+972(3)7219664 ext. 806
ram@aerocrs.com