Coastal Aviation is based in Dar es Salaam in Tanzania. Coastal Aviation offers domestic flights to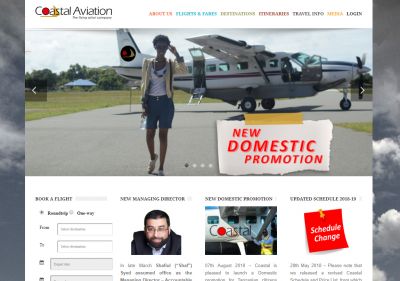 destinations in Tanzania, such as Arusha, Kilimanjaro, Kilwa, Masoko, Mafia, Pemba, Serengeti, Selous, Zanzibar and more. In addition, Coastal Aviation offers flights to regional destinations like Kigali (Rwanda) and Nairobi (Kenya).
Coastal Aviation is currently using a fleet of Cessna C206, Cessna C208B and Pilatus. Recently, Coastal Aviation had finished successfully it's migration to AeroCRS reservation system.
Mr. Julian Edmunds, Managing Director of the airline said: "Coastal Aviation decided to change its​ reservations systems. We needed a system that will allow us to operate a multi class operation and that has GDS connectivity. We investigated a number of systems, before deciding that AeroCRS will be the most suitable solution to our expectations.
The migration of our bookings from our old system was relatively easy. It was made possible by the dedication and flexibility that the AeroCRS team gave us, added to the cooperation that our previous supplier have us too. Many of our issues, have been quickly resolved and we all continue to work together to resolve these".
Mr. Meir Hadassi, AeroCRS' CEO said: "Coastal Aviation operates an irregular operations, like many other​ airlines customers we have in the African region, they can fly virtually anywhere according to operational restrictions and demands. This poses a real "challenge", yet we here at AeroCRS together with Coastal Aviation's team modify and give the airline control abilities, while still giving them the option to be published under the strict rules of the GDS and OTAs.
The above together with the rest of our existing features and constant development of the system (a feature almost every week!), together with complementary services like AeroCRS Digital and Network give Coastal Aviation and other hosted airlines the competitive edge and the distribution they need to stay ahead".
AeroCRS provides an online reservation and operation system for small‐medium size airlines, offering reservation system (B2B and B2C), CRM, operation, DCS, website with full content management system, BI dashboard & reporting center, open API, connectivity with distribution channels and more.
For more information about Coastal Aviation, please visit www.coastal.co.tz