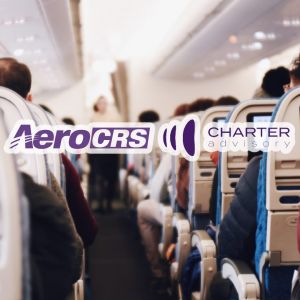 Charter Advisory is the biggest air charter broker in the Czech and Slovak region.
As a consequence of the COVID-19 virus outbreak, Charter Advisory started arranging evacuation flights for stranded passengers in Europe and the USA to their origin countries, using leased aircraft from different airlines.
Following the growing demand, Charter Advisory needed a swift ad-hoc solution to manage the evacuation flight operations and to offer a user-friendly experience to their customers. That's just where and when AeroCRS jumped in.
In only 3 days, the AeroCRS team set up, trained, and rolled out its PSS for the Charter Advisory, including the integration with Charter Advisory's preferred payment gateway provider.
Mr. Meir Hadassi, AeroCRS CEO said: "I'm very excited about the rapid implementation of our system solution for Charter Advisory. At the time I got approached by them, I knew that our team could handle the project. One of our core competences is the execution of ad-hoc implementations in an extremely short time frame."
Mr. Martin Fec, Charter Advisory CEO & Co-founder said: "Seeing the fast-growing number of stranded people far away from their homes, we quickly realized we couldn't handle these large charter flights using any tools suitable for business aviation. When our friends from kiwi.com recommended AeroCRS, I felt confident it was the right choice. Implementation and support from AeroCRS were very professional and smooth so we can see how we made the right choice indeed."
Charter Advisory has built the biggest charter-broker team serving Czech and Slovak markets. They operate approximately 1 000 private and group flights per year with a network of thousands of aircraft all over the world. Charter advisory also provides full private jet utilization to its owner in order to assure them revenue, while the aircraft is not used for their own flights. They work in a creative way, respond fast, and never leave the customer alone. Both for private, as well as group flights.
AeroCRS provides cutting edge solutions to the airline industry and supports more than 60 airlines around the world. AeroCRS solutions include – AeroCRS PSS, a robust online reservation system that consists of full IBE, open API, B2B platform, FFP, reporting center, and more. AeroCRS Analytics an online business intelligence solution and AeroCRS Network an online distribution platform that consists of +20 API integration to different distributors.
For more information about Charter Advisory visit www.charteradvisory.cz/en
Contact:
Ram Beery, Product Manager
144 Menachem Begin St. Tel Aviv, Israel
+972(3)7219664 ext. 806
ram@aerocrs.com