AeroCRS is proud to announce the launching of a new robust Analytics system which will run on Qlik Sense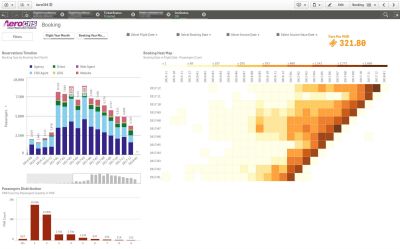 platform and will give every airline the ability to analyze their sales data, in order to get deep insights about customers behavior and to act accordingly on different channels.
Qlik Sense was released in 2014 and was positioned as being the next generation of data visualization and discovery.
Why we moved from QlikView to Qlik Sense?
Mobile friendly – means that all applications render to your screen size, regardless of the device
Provide a greater level of self-service but in a controlled form
Create great looking visualizations with minimal effort
Smart search functionality means that users can simply search multiple fields in the dataset and see the results
Data connections are all centralised to the Management Console so that connections to databases, folders, websites etc are controlled and reusable
Every airline in the world can benefit from AeroCRS Analytics system. Even if you are not using AeroCRS PSS system, our development team will establish the connection to your databases, so you will be able to enjoy the powerful tool of AeroCRS Analytics.
For more information and demonstration of the system contact sales@aerocrs.com
AeroCRS provides an online reservation and operation system for small-medium size airlines, offering reservation system (B2B and B2C), CRM, Inventory management, DCS, Full ecommerce website with CMS, BI dashboard & reporting center, Analytic tools, open API, connectivity with distribution channels, digital marketing services and more.
Contact:
Ram Beery, Sales Manager
114 Begin St. Tel Aviv, Israel
+972(3)7219664 ext. 806
ram@aerocrs.com